BED CRUMBS | "When a man tells the truth, it's the truth"
Hello and happy Saturday from my fire escape where I am basking in this warmth like the little cold blooded reptile I truly am. I fux with spring and I hope all of you do, too!

Unless, you're, like, one of those people who hates asparagus and light jackets and opening your windows and just realized your SAD was not, in fact, SAD, but just regular depression. Then, sorry.

Here's some stuff on my mind from this week.

love u,
carrie
---
SOME THOUGHTS I HAVE BEEN THINKING

Your Whole Fucking Culture Alienates Me
I knew the backlash to Lucy Flores would be swift and overwhelming — and my reaction to it ranging in shades of "are you FUCKING kidding me", "burn it down", and *heavy sigh* — the moment I read her essay about an awkward encounter with Joe Biden that left her feeling "uneasy, gross, and confused." We've been here before, repeatedly, and I'm so sick of feeling stuck in this purgatory where women's stories are deemed either unimportant or unbelievable. It's exhausting, even more so when I think about all the rage I carry not just for myself, but the generations of women who came before me, the ones who fought for things to be better. Sometimes I think about how some of the ones who have been at this for decades are still fighting with me, dismayed and a little sad and a little guilty that we aren't more than a few inches from where they started all that time ago. Often, this thought process has made my heart sink into the pit of my stomach. On more than one occasion, it's made me cry.

There is a scene near the end of The Punk Singer, the 2013 documentary on Kathleen Hanna, where the Bikini Kill frontwoman discusses her experience as a survivor of continual sexual abuse and harassment from a young age, her fear that the entirety of it would be too much to be believed. But she's talking about women's shared experience, too.

"I just think there's this certain assumption that when a man tells the truth it's the truth," she says. "And when, as a woman, I go to tell the truth, I feel like I have to negotiate the way I'll be perceived. Like, I feel like there's always a suspicion around a woman's truth, the idea that you're exaggerating. I don't just sit there and be like 'this this this this' — there's this whole fear that I'm gonna have finally fucking stepped to the plate and told the truth and someone's gonna say, 'Uh, I don't think so.'"

She notes that a woman's truth is a sum of its parts; the way we move through the world is never influenced solely by an incident that happened only once or what our childhoods were like. When you gather them all up, it seems unwieldy. All these small offenses? How could they possibly make something so great?

"Who would believe me?" she asks. "And then I was like, 'other women would believe me.'"

I'm the kind of person who cries when they're overly tired or frustrated or angry and, man, do I hate myself for that, but reader, when I think about this shit, I am often all three. Progress is notoriously slow — two steps forward always countered with a step back — but goddamn. Social norms are not changing, Mr. Biden, and anyone else who seems to think that. It's just that women are done accepting that this is how it's always been. We have swallowed our acidic silence for so long that it's burned holes in the lining of our stomachs and we refuse to withstand the pain anymore. So that means finally talking — shouting — about shit that we hate that, no isn't rape or abuse or harassment, but still shit men do to us that makes us fucking uncomfortable. We're not sorry if you don't like it.

Kathleen Hanna is standing at the front of the stage clad in short black shorts and a patterned black bra. The word "slut" is scrawled across her stomach in all caps, the Sharpie lines thin but stretching themselves tall towards her ribcage. "I have a fucking right to be hostile," she seethes, "and I'm not gonna sit around and be peace and love with somebody's fucking boot on my neck."

My therapist loves to invoke feminism when she's scolding me a lot in response to my various insecure bullshits. "A man would not care about this shit," she reminds me, and I know she's right. But you can't act or think like a man when the world insists on reminding you at every single turn that you are and always will be a woman.

And to be a woman, as feminist author Jessica Valenti wrote this week, is to put up with "incessant objectification and diminishment" that affects our sense of selves and how we behave in the world, simply because if it's not rape, do we really need to talk about it? Is it really that big of a deal? Can't we just let it go?

"Every shoulder rub and unwanted kiss tells us how little our personal space, privacy, and dignity really mean," she writes. "Women are reminded of our place again and again and again. And then, when we're told it's all in our heads, we're reminded one more time."

There is a line in Bikini Kill's 1992 song "White Boy" where Kathleen Hanna screams "I'm so sorry if I'm alienating some of you. Your whole fucking culture alienates me."

I'm so tired of having to explain to people why the women (plural! there are more than one!) who have accused Joe Biden of inappropriate or uncomfortable touching deserve to be heard, deserve to be upset, and, most of all, deserve at least a real apology.

No, it isn't like "grab them by the pussy." No one said it was. No one said it should disqualify him from running, as unnecessary in an already-crowded pool of far better candidates that may be.

We just said it sucks, and we'd like for you to hear that.
---
STUFF I LISTENED TO
Lil Nas X featuring Billy Ray Cyrus - "Old Town Road (remix)"
First: My poor, sweet, dumb brain. I have listened to this song 31 times in the past 24 hours. Pray for me.

Second, and more importantly: Who gets to be the cowboy? This past year has seen a revival of and subsequent reckoning with the age-old American cultural touchstone. From the Wild West that is the internet to music, millennials are obliterating the traditional white, cis-male, hyper-masculine concept of what "cowboy" really means — be it through Beyoncé's boot-stomper "Daddy Lessons," Kacey Musgrave's Nashville bro-country shake-up, Solange's black cowboy imagery, or Mitksi's insistence on applying the intrinsic power associated with the cowboy to herself as an Asian woman.

"Old Town Road" was bound to happen in our days of yeehaw. Lil Nas X's viral hit, a playful combination of hip-hop, trap, and country, made its way to the Billboard charts, only to be kicked off because it didn't "embrace enough elements of today's country music to chart in its current version." Nevermind the fact that half of what Billboard considers country these days is white frat boy twang rap or that Taylor Swift always had a warm spot on the charts, despite blatantly making pop music for years. Billboard asked to speak to the manager and Lil Nas delivered, enlisting Billy Ray Cyrus (meme gold for those of us who came of age in the Hannah Montana era) for this earworm of a remix.

Moral of the story: If they don't want you to join 'em, beat 'em. It's 2019. We can all be the fucking cowboy. Yeehaw, giddy up.

STUFF I READ
Kill Your Darlings: On writing, letting go, and Little Women (1994) - Emmy Potter
Twitter sucks in so many ways, but one way it's good is that it's let me become friends with some pretty rad people and some very good writers. My friend Emmy is one of them, and she wrote a piece that is so extremely my shit, I have to keep this brief for fear of becoming overefussive.

Basically, if you live anywhere on this Venn Diagram of niche-but-powerful personality types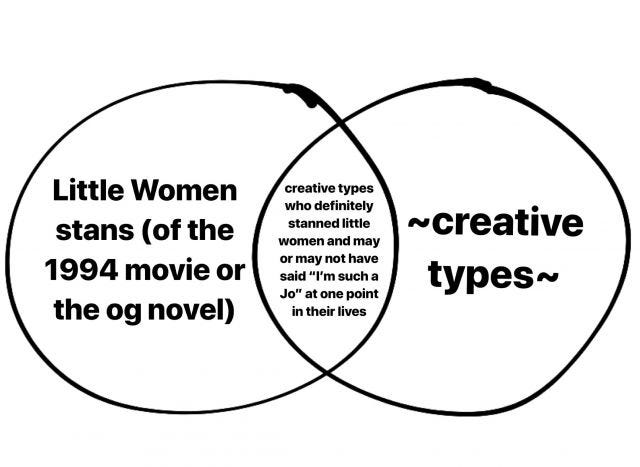 or just love good coming-of-age stories, you will love her brilliant essay as much as I did.

STUFF I WATCHED
Nico, 1988 (2018)
I saw this — a biopic of the singer specifically set in her final years — at Film Forum this summer and it made me feel and think so much more than I thought it would. It's on Hulu now and, wow, it hits hard the second time around, too.


okay that's it that's the end thanks bye